Speaking
The uninterrupted life is not worth living. That's been my motto ever since I started writing…while raising seven children with my husband Greg…and homeschooling them. In fact, the real reason I like public speaking is that I get to finish a sentence.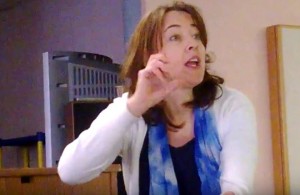 I have spoken in Fredericksburg, MD, St. Louis, MO; Houston, TX; Tarrytown, NY; Lowell, MA; White Plains, NY; Scranton, PA; Berlin, NJ; Hartford, CT; Toledo, OH; King of Prussia, PA and many more.
To invite me to speak, contact me!
Testimonials:
"After the conference thirteen of us went out to dinner and we all agreed how funny you were and what a delight it was to hear you." Allison Girone, audience member, CHAPLET Conference April, 2010
"Thank you for coming to speak at our Conference. I know God reached many people through you. Our exit polls showed you were a very popular speaker." The Team at WMCH, New England Catholic Homeschool Conference, June 2010
"Everyone in our Lehigh Valley Legatus group gave you the highest rating as a speaker." John Miravich, Program Chair, February 2012.