Here we have a saint who left her husband and daughter to become a monk. Nope. Not a typo. St. Matrona is complicated. So much so that you might reasonably wonder: Why is she a saint? Let us see.
St. Matrona was born in 492 in Pamphylia, in present-day Turkey. She was educated in the liberal arts and while young, given in marriage, whether she liked it or not, to a wealthy nobleman. His name was Domitian, like the evil emperor, which perhaps suited him because he would sometimes beat Matrona. Matrona became the mother of a daughter, whom she named Theodote, which is Greek for "given to God." Later, that would come true quite literally.
At one point, the whole family moved to Constantinople. The city was everything the happy couple could have wished. It was the biggest, richest city in Europe which pleased Domitian. It was home to shrines and churches which pleased Matrona, who liked nothing better than prayer, fasting, and taking care of the downtrodden. Domitian tried to bully his wife out of her holy practices. Not surprisingly, her favorite Bible verse soon became: "From now on, let those having wives act as not having them" (1 Corinthians 7:29).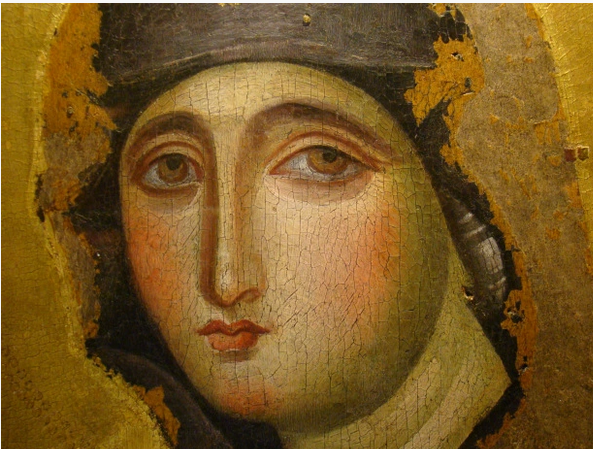 At 25, Matrona, still very beautiful, renounced ornamentation and the desires of the flesh as vanity. Night after night she was away from home which just made Domitian angrier.
He accused her of having a lover — which was true if you count Jesus. To punish her, he kept Matrona locked in her room.
When Matrona finally persuaded him to let her out, she fled with her daughter to the home of a holy woman, Susanna. There, she poured out her heart to a holy teacher, Eugenia. Matrona envied Susanna. Hers was the life she would have chosen if she had been so allowed. Eugenia said, "What about your daughter?"
Theodote was then 15 years old, which was quite grown up back in those days. Matrona entrusted Theodote to Susanna. Hence the name, "given to God" came true. When Theodote died soon after, Matrona rested in the hope that her daughter was now completely given to God.
Meanwhile, Matrona had no intention of living with the holy women herself. Why? She knew Domitian would go after his nun wannabe wife. Where would he look first but in the nearest convent? He could be counted on to drag Matrona home, beat her, lock her up, and this time, throw away the key.
The prospect haunted Matrona's dreams, literally. She dreamt she saw herself running from her husband but was saved by monks. She awoke with a plan.
Matrona would shave her head, put on men's clothes, and pass herself off as a man. Her husband would never look for her in a men's monastery.
The monastery she entered was under the governance of a saint, St. Bassion. Matrona introduced herself to him as the eunuch, Babylos. The disguise worked. After that, she lived in relative peace by throwing herself into her work and keeping her head down and her mouth shut. Far from arousing suspicion, the other monks simply assumed that Babylos was out-monking them in holiness.
Matrona even devised a way to go to Holy Communion with her head covered, as women did. She would fain a cold as an excuse to wrap her head up. Thus she lived for quite some time before being discovered. Then a novice monk working up close to her asked her why her ears were pierced. She cleared her throat and in the deepest tenor she could fain told him that monks are supposed to mind their own business.
But the jig was up. She was discovered. St. Bassion was irate. Had she had come to tempt the monks, to shame them? Matrona poured out her woeful tale, confessed her aspiration for higher things, and finally revealed her dream that monks would save her.
St. Bassion forgave her but kicked her out all the same, arranging for her to go to a women's monastery in Syria. Some time after that, Domitian showed up at the men's monastery, raging and hollering to open the door and give him his wife. Bassion covered for her and told him that women were not allowed. But he worried about her and sent word.
Thus Matrona moved from place to place, with Domitian hunting her, always one step behind. It was hard for Matrona to hide because she was so holy that people were attracted to her.
There was no prejudice against women in Christianity, which is a marked difference from the rest of the ancient world. A female Catholic saint was just as revered as a male one.
People would go to Matrona for wisdom and for healing. Naturally, they would talk about it and Domitian would pick up the scent again. He would hear of a holy nun with a gift for miraculous healing and say, "Aha!"
At one point, Matrona ended up homeless in Beirut and had to shelter in an abandoned pagan temple. At first she was plagued by the demons who lingered in that place. Soon, her holiness of life attracted the nearby pagan women, who converted to Christianity and moved in with her and formed a monastic community.
After the death of Domitian, the community relocated to Constantinople where St. Bassian blessed it. St. Matrona, who sought nothing but anonymity all along, continued to attract people and gained many conversions. Many people visited her, including the Empress Verina, and were received equally with the quiet kindness which characterized the modest Matrona.
She died when she was just shy of age 100 after receiving a vision of her place in heaven.
This article originally appeared on Catholicdigest.com in November 2018 and is shared with permission.
Being a nun was not the only way to be a female Catholic saint in the ancient world. Read about the powerful St. Olha here.
Image is a first century icon of Our Lady. I could find no images of the ancient St. Matrona.